I am sorry for not posting recently, since I was on vacation, but I am back now.
If you want to see this battle and learn something click read more.
Yes, so a "Pink Alliance" was formed to help get rid of the Purple Republic. The PA (PInk Alliance) is a mixture of a lot of armies combined. So yes, if you do not know about the Purple Republic yet, I will tell you some about them.
About the Purple Republic (PR)
The PR, also known as the Purple Republic, has taken Club Penguin by storm, but not for the better. They want to try to take over Club Penguin. There site is full of cuss words and they report and hate all pink penguins, which is why the alliance is called the Pink Alliance. The PR have over 300 members. They use a steam-engine web site instead of a wordpress, which is why they have so many members, as some people say.
So that was a little info on PR, and now onto the battle of PR vs. the PA.
PR starts out in the forest, the Pink Alliance has just started to enter the forest.
PR moves to the cove.
Yes, so PR seems so be winning at the moment, but that is all about to change….
The PA make a huge circle in the forest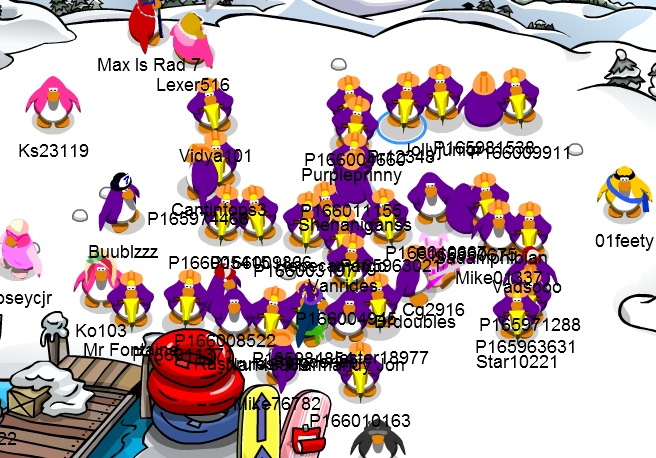 PR makes a Nazi symbol. How lovely. <- sarcasm, for idiots who would blame me for loving Pr, but trust me, its sarcasm.
PA makes a line at the stadium, while PR does something.
PA preforms a "get a job" bomb on PR.
A mixed line of PA and PR soldiers.
————————————————————————————————
That is all for now, and remember:
Filed under: Uncategorized